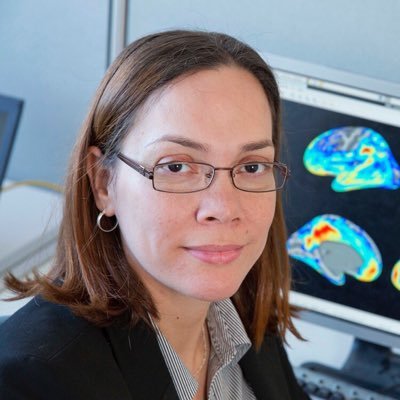 Yakeel T. Quiroz, Ph.D.
Associate Professor of Psychology in the Department of Psychiatry
Harvard Medical School
Psychologist
Psychiatry, Massachusetts General Hospital
PhD Investigator Clinical
Psychiatry, Mass General Research Institute
Paul B. and Sandra M. Edgerley MGH Research Scholar 2020-2025
Mass General Research Institute, Massachusetts General Hospital
Education
PhD Boston University 2013
MA Boston University 2006
Research Interests
alzheimer's disease; biomarkers; diagnosis; disease prevention; familial alzheimer's disease; genetics of alzheimer's disease; latino population; neuroimaging; presenilin-1; secondary prevention
Research Narrative
Dr. Quiroz is Associate Professor in the Departments of Psychiatry and Neurology at Massachusetts General Hospital and Harvard Medical School in Boston, MA. She is the Director of the Mass General Familial Dementia Neuroimaging Lab, and the
Multicultural Alzheimer's Prevention Program-MAPP
. She earned her PhD in clinical psychology at Boston University. She completed a postdoctoral fellowship in neuropsychology and brain imaging at MGH, under the mentorship of Drs. Reisa Sperling and Keith Johnson.
Her research interests include brain imaging and genomics, and early detection and tracking of Alzheimer's disease and other dementias. Research in her lab is focused on the study of cognitive and brain changes that predispose individuals to develop dementia later in life. She is currentlty the principal investigator of the Colombia-Boston (COLBOS) longitudinal
bio
marker study on early-onset autosomal dominant Alzheimer's disease (NIH NIA funded), and the Boston Latino Aging Study (BLAST).
Dr. Quiroz has made seminal contributions to our understanding of preclinical Alzheimer's disease. In particular, her work with autosomal dominant Alzheimer's disease has contributed to the reconceptualization of Alzheimer's disease as a sequence of physiological changes that begins several decades before symptom onset, and which may be delayed or even prevented. Her
group has demonstrated that young adults who carry a mutation in the presenilin-1 gene had brain amyloidosis at the age of 28 year, an average of 17 years before their estimated age of clinical onset (45 years), and had elevated levels of tau pathology in their late 30s, an average of 7 years before symptom onset. Dr. Quiroz's group was the first one to demonstrate that tau pathology was evident in the brains of carriers of autosomal dominant Alzheimer's disease, several years before clinical onset (Quiroz et al., JAMA Neurology in 2018).


In November 2019, Dr. Quiroz's group published a paradigm shifting article in
Nature Medicine
reporting on the first case from the Colombian families who developed mild cognitive impairment (MCI) three decades after the estimated age of clinical onset. When the patient was examined in Dr. Quiroz's study, she had early MCI, very high brain amyloid, but limited tau tangle and neurodegenerative measurements. Genetic analysis revealed that she had two copies of the APOE3 Christchurch (R136S) mutation, suggesting that this genetic variant is protective by reducing tau pathology and neurodegeneration in the face of high amyloid pathology. This publication was the most discussed and read scientific paper in the month of November (
Nature Index
), and was featured in over 270 news outlets, including the front page of the
New York Times.
The importance of this article was also highlighted with an editorial in
Nature Medicine
and though just recently published, has been already cited 14 times, including by
The Lancet Neurology's
review of the most important advances in dementia research in 2019.

Dr. Quiroz has published over 70 peer-reviewed articles, and her work is recognized by her peers at the local, national and international level. She has earned several awards throughout her career, including an NIH Director's Pioneer Early Independence Award, the FABBS Foundation Early Career Impact Award, and th

e Alzheimer's Association Inge Grundke-Iqbal Award for Alzheimer's Research.



To support Dr. Quiroz's research: Resistance-to-Alzheimers
---