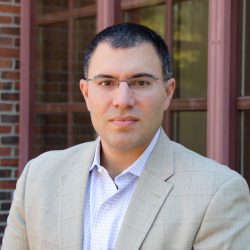 Alexander Soukas, M.D., Ph.D.
Associate Professor of Medicine
Harvard Medical School
Weissman Family MGH Research Scholar
Massachusetts General Hospital
Physician Investigator (Cl)
Center for Genomic Medicine, Mass General Research Institute
Associate Member
Broad Institute
Assistant Physician
Diabetes, Massachusetts General Hospital
Education
M.D.; Ph.D. Weill Cornell Medical College 2003
Research Interests
adipose tissue; aging; autophagy; caenorhabditis elegans; caenorhabditis elegans proteins; diabetes; dosage compensation genetic; fats; feeding behavior; leptin; lipogenesis; longevity; metformin; mitochondrial permeability; multiprotein complexes; obesity; organelles
Research Narrative
Alex Soukas, MD, PhD, is an Assistant Professor of Medicine at the Massachusetts General Hospital and Harvard Medical School. Dr. Soukas' laboratory studies the molecular genetics of obesity and diabetes. The lab uses a multidisciplinary approach to study metabolic disease, uniting C. elegans genetics and genomics with mammalian genetics and physiology. The lab uses high throughput genetics and genomics to identify and study genes that lead to alterations in body fat mass.

Disease mechanisms are studied in C. elegans and conserved findings are brought to mammalian cell culture models and ultimately to the development of mouse models. The lab has set up infrastructure to complete high-content, high-throughput screening of C. elegans, physiology, and lipidomics. In order to identify conserved mechanisms of metabolic regulation, the laboratory is also set up to conduct detailed metabolic phenotyping of mouse models of obesity and diabetes.
The Soukas lab is engaged in elucidating endocrine feedback control of fat mass and key metabolic pathways. We have identified hundreds of genes involved in fat mass regulation and are defining the complex genetic and cell biological circuits involved in metabolic balance and fat storage. Genetic, genomic, cell biological, biochemical, bio-informatic and physiologic approaches are used.
Dr. Soukas received his Sc.B. in Biomedical Engineering from Brown University. He attended the Tri-institutional M.D., Ph.D. program of Cornell, Rockefeller and Sloan Kettering. He graduated with his M.D., Alpha Omega Alpha from Cornell University Medical College and a Ph.D. in molecular genetics from the Rockefeller University. He completed his internal medical residency at the Brigham and Women's Hospital and thereafter moved to the Massachusetts General Hospital to complete a clinical and research fellowship in endocrinology, diabetes and metabolism.

Dr. Soukas is a recipient of the Ellison Medical Foundation New Scholar in Aging Award, the Charles H. Hood Award in Child Health, and Harvard Medical School Excellence in Tutoring Award. He is an attending physician in the MGH Diabetes Center with an interest in clinical obesity and diabetes. Dr. Soukas is ABIM board certified in Internal Medicine and Endocrinology, Diabetes, and Metabolism. He is faculty in the Department of Medicine, Endocrine Division, Diabetes Unit as well as a member of the Center for Genomic Medicine.