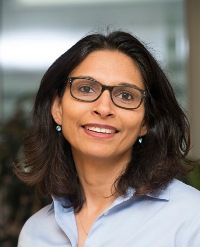 Richa Saxena, Ph.D.
Associate Investigator
Center for Genomic Medicine, Mass General Research Institute
Research Staff
Anesthesia, Critical Care and Pain Medicine, Massachusetts General Hospital
Professor of Anaesthesia
Harvard Medical School
Phyllis and Jerome Lyle Rappaport MGH Research Scholar
Massachusetts General Hospital
Associate Member
Broad Institute
Education
PhD Massachusetts Institute of Technology 2000
Research Interests
circadian rhythms; clock proteins; diabetes mellitus type 2; genetic loci; genetic variation; genome-wide association study; polycystic ovary syndrome; polymorphism single nucleotide; preeclampsia; sleep
Research Narrative
We study the genetics of circadian rhythms, which regulate diverse physiological processes including the sleep-wake cycle, feeding behavior, hormone secretion, drug metabolism and glucose homeostasis.

The lab integrates genome-wide human genetic approaches with focused mechanistic investigation to understand how genetic variation in circadian clock genes impacts normal human physiology, disease pathophysiology and response to therapy.

We led genome-wide association studies of type 2 diabetes and related traits that identified over 20 risk loci for type 2 diabetes and 18 loci for glycemic traits including the circadian genes melatonin receptor (MTNR1B) and cryptochrome 2 (CRY2).

Interestingly, epidemiologic and laboratory studies have demonstrated that inadequate sleep duration, sleep disorders and circadian mis-alignment such as shift work consistently increase risk of type 2 diabetes, but molecular links between these systems in humans are poorly understood. In collaboration with researchers at the Division of Sleep Medicine at the Brigham and Women's Hospital, the lab is exploring genetic and mechanistic links between sleep/circadian dysfunction and type 2 diabetes pathogenesis.

The other main focus of the lab is gene discovery in preeclampsia, a common disorder in pregnant women that strongly predicts risk of future cardiovascular disease.

We investigate the maternal and fetal genetic components of disease and are engaged in identification of:

a) common variants through participation in international consortia

b) rare variants by sequencing of extreme and familial samples and

c) genetic interaction between the maternal and fetal genomes
In addition we have several rare disease genetics collaborations including large-scale sequencing in malignant hyperthermia.