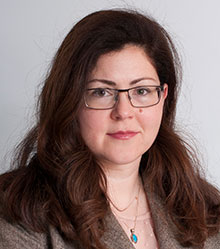 Ebru Oral, Ph.D.
Associate Professor of Orthopedic Surgery
Harvard Medical School
Associate Investigator
Technology Implementation Research Center, Mass General Research Institute
Research Interests
implantable polymeric materials; infection; joint prosthesis; local delivery of therapeutics; long bone fracture; materials testing; polyethylenes; preclinical models of periprosthetic infection; simulation of in vivo environments; vitamin e
Research Narrative
Dr. Ebru Oral an Associate Professor of Orthopaedics at Harvard Medical School, the Associate Director at the Harris Orthopaedic Laboratory and the Associate Director of the Preclinical Research Support Core at MGH. The Harris Orthopaedics Laboratory (HOL) has over five decades of experience in addressing problems in adult reconstructive surgery by innovating new surgical techniques, devices, joint implant designs, and joint implant materials. Notably, several formulations of highly cross-linked ultrahigh molecular weight polyethylene (UHMWPE), stabilized by re-melting or vitamin E, were developed for large scale usage in implant manufacturing in this laboratory and have changed the landscape of joint replacement.


Dr. Oral is a native of Istanbul, Turkey. She received her BS degree from Boğaziçi University in Chemical Engineering and her PhD from Purdue University in Chemical Engineering in 2003. She did her post-doctoral training in Orthopaedic Biomaterials at the Harris Orthopaedic Laboratory on the first antioxidant stabilization methods of crosslinked polyethylenes to improve the oxidative stability of joint implants. This work received the HAP Paul Award of the International Society for Technology in Arthroplasty in 2006 and resulted in the first clinical use of vitamin E-stabilized cross-linked UHMWPE joint implants.

Dr. Oral's research expertise is in the science, application design and relevant testing of implantable polymeric materials to address orthopaedic problems. Her current work focuses on incorporating therapeutics for the controlled local release of antibiotics, anti-inflammatories and analgesics from implantable materials and also developing the in-vitro and preclinical animal models for testing the efficacy of these new materials. Clinical areas of interest include joint replacement, preventing and treating orthopaedic infections including periprosthetic infection, pain management, arthrofibrosis, local infection and pain control in internal fracture fixation, and the improvement of allograft properties. Dr. Oral's team serves as an education hub for engineering of materials with clinical impact and for training in a unique biomaterial and implant material-based translational research environment. Our team consists of a variety of team members including interns, engineers, medical students, PhD students, post-doctoral fellows, clinical research fellows and visiting scientists.

Most notably, Dr. Oral is a Fellow of the American Institute of Medical and Biological Engineers, an honor given to the top 1-2% of biomedical scientists and a Fellow of the National Academy of Inventors, the highest national honor for innovation in the United States. Among her other honors and awards are American Academy of Orthopaedic Surgeons/National Institutes of Health Young Investigator on Wear and Osteolysis in 2007, the HAP Paul Award for Outstanding Research of the International Society for Technology in Arthroplasty in 2011, Lifetime membership of this society in 2013, the Claflin Distinguished Scholarship of the MGH in 2011 and Partners Healthcare Innovation Discovery Awards in 2016, 2018 and 2019. She has over 60 peer-reviewed publications and numerous book chapters. She is an inventor on over 40 international patents on material technologies for joint replacements.