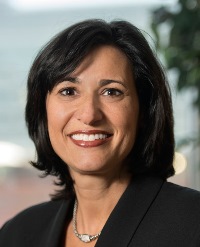 Rochelle Walensky, M.D.
Chief
Infectious Disease, Massachusetts General Hospital
Physician
Infectious Disease, Massachusetts General Hospital
Professor of Medicine
Harvard Medical School
Steve and Deborah Gorlin MGH Research Scholar
Massachusetts General Hospital
Education
MD Johns Hopkins University School of Medicine 1995
Harvard T. H. Chan School of Public Health 2001
Research Interests
aids serodiagnosis; anti-hiv agents; anti-retroviral agents; coronavirus; cost-benefit analysis; covid-19; hiv; hiv care compliance; hiv infections; mass screening; monte carlo modeling
Research Narrative
Rochelle Walensky, MD, MPH., is the Co-Director of the Medical Practice Evaluation Center at Massachusetts General Hospital, Professor of Medicine at Harvard Medical School, and a practicing Infectious Disease physician at Brigham and Women's and Massachusetts General Hospitals.
Dr. Walensky has been a member of the Cost-effectiveness of Preventing AIDS Complications (CEPAC) team since 1998.
Her research interests have focused on HIV/AIDS policy and cost-effective strategies of HIV care in the US and in resource-limited settings. She is internationally recognized for motivating US policy toward the promotion of routine HIV screening and for her work on effective and efficient strategies of HIV care in South Africa.
She is a member of the American Society for Clinical Investigation (ASCI), the American Association of Physicians (AAP) and of the Department of Health and Human Services Panel on Antiretroviral Guidelines for Adults and Adolescents, and she is Chair of the NIH the Office of AIDS Research Advisory Council. She has been an advisor to the WHO and the UNAIDS.
Dr. Walensky received her BA from Washington University in St. Louis (1991), her M.D. from the Johns Hopkins School of Medicine (1995), and her M.P.H. from the Harvard School of Public Health (2001). She trained in Internal Medicine at the Johns Hopkins Hospital (1995-1998) and in Infectious Disease at the MGH/BWH combined fellowship program (1998-2001).
---
Learn more about Dr. Walensky's research