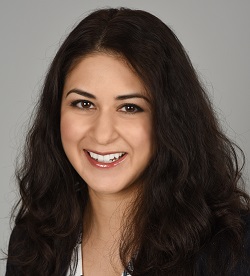 Sophia C Kamran, M.D.
Assistant Professor of Radiation Oncology
Harvard Medical School
Assistant Radiation Oncologist
Radiation Oncology, Massachusetts General Hospital
Associate Member
Broad Institute
Physician Investigator (Cl)
Radiology, Mass General Research Institute
Education
MD Harvard Medical School/ BWH 2013
BS Massachusetts Institute of Technology 2008
Research Interests
biomarkers in prostate cancer; bladder cancer; kidney cancer; prostate cancer; testicular neoplasms; translational research
Research Narrative
Dr. Kamran is a radiation oncologist at the Massachusetts General Hospital Cancer Center and Assistant Professor of Radiation Oncology at Harvard Medical School. In her clinic, she specializes in the treatment of genitourinary cancers. Her research interests focus on the application of computational genomic approaches to characterize tumor evolution to treatment and understand mechanisms of toxicity and resistance to radiation and chemoradiation. Her long-term goal is to use these approaches to guide the design of clinical trials of high-precision radiation therapy to enable personalized approaches to delivery of radiation therapy for patients with genitourinary cancers. Her research has received distinctions from the American Society for Radiation Oncology (Basic/Translational Science Research Award) as well as the MGH Department of Radiation Oncology William Shipley Research Award. Dr. Kamran was nationally recognized as a "40 Under 40 in Cancer Rising Stars and Emerging Leaders" by the Lynx Group/McGivney Global Advisors in 2018. She is the recipient of the MGH Center for Diversity & Inclusion's Physician Scientist Development Award for her work on single nucleotide polymorphisms as predictors of toxicity following radiation therapy for prostate cancer, the first awardee in the Department of Radiation Oncology. She is also the recipient of the inaugural Loeffler Team Science Seed Grant for her translational work in immunoradiotherapy. Dr. Kamran was selected as part of the first class of MGH Anne Klibanski Visiting Scholars, an award for female faculty who have demonstrated exceptional promise as leaders in their field. Nationally, she serves on the American Society for Radiation Oncology's Committee on Health Equity, Diversity and Inclusion.
Dr. Kamran holds a bachelor's degree in Biological Engineering from the Massachusetts Institute of Technology, which she attended as a Gates Millennium Scholar. She received her medical degree cum laude from Harvard Medical School. During her medical training, she completed a Howard Hughes Medical Student Research Fellowship. She completed a transitional year internship at Memorial Sloan Kettering Cancer Center, and residency training at the Harvard Radiation Oncology Program.