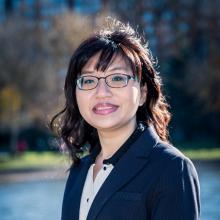 Hsiao-Ying (Monica) Wey, Ph.D.
Associate Investigator
Athinoula A. Martinos Center for Biomedical Imaging, Mass General Research Institute
Assistant Professor of Radiology
Harvard Medical School
Research Staff
Radiology, Massachusetts General Hospital
Education
PhD University of Texas School of Medicine at San Antonio 2011
Research Interests
evoked potentials, somatosensory; evoked potentials, visual; oxygen; oxygen consumption; somatosensory cortex
Research Narrative
Our research focuses on developing and applying novel neuroimaging methods for translational neuroscience studies to relate changes in neurochemistry and brain function. We are interested in investigating neuroreceptor systems in responses to behavioral and/or pharmacological challenges in health and diseases, with an emphasis on applied substance abuse and psychiatric disorders. In addition, we are working on pushing the limits of existing PET and MRI methods to improve their spatial and temporal capability.