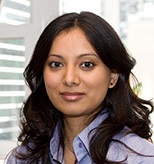 Seemantini Nadkarni, Ph.D.
Associate Investigator
Wellman Center for Photomedicine, Mass General Research Institute
Associate Professor of Dermatology
Harvard Medical School
Research Staff
Dermatology, Massachusetts General Hospital
Education
PhD University of Western Ontario 2002
Research Interests
aorta; atherosclerosis; catheters; elasticity imaging techniques; lasers; light; refractometry; rheology; scattering, radiation; tomography, optical coherence; ultrasonography, interventional
Research Narrative
Seemantini is an Associate Professor of Dermatology at Harvard Medical School, and directs her laboratory at the Wellman Center for Photomedicine at Massachusetts General Hospital. She received her PhD in Medical Biophysics from the University of Western Ontario, Canada. Her doctoral research focused on three-dimensional ultrasound approaches with applications in echocardiography and intracoronary imaging. Following her doctoral work, she completed her post-doctoral fellowship as an NSERC scholar at the Wellman Center for Photomedicine, where she continued her research on intracoronary imaging, and focused on exploring optical strategies to evaluate tissue biomechanics and microstructure. Her research encompasses both fundamental and translational areas of research, primarily focused on the invention and investigation of novel optical technologies for applications in Hematology, Cardiology, cancer research and in vitro diagnostics. The research initiatives in the Nadkarni lab span the investigation of novel optical methods using multimodal approaches to detect unstable plaque, the development of hand-held optical sensors for whole blood testing at the point-of-care and development of new imaging strategies to quantify the micromechanical properties of the tumor extracellular matrix. In addition, the group is developing optical approaches and endoscopic probes for intra-luminal imaging of soft tissue biomechanics for a variety of clinical applications.
For more information about the Nadkarni laboratory please visit
nadkarnilab.mgh.harvard.edu
.