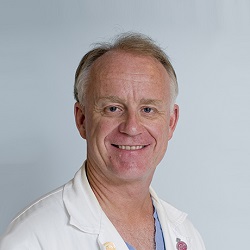 Thomas Burke, M.D.
Physician Investigator (Cl)
Emergency Medicine, Mass General Research Institute
Associate Professor of Emergency Medicine
Harvard Medical School
Associate Pediatrician
Pediatric Emergency Medicine, Massachusetts General Hospital
Associate Physician
Emergency Medicine, Massachusetts General Hospital
Education
MD Albany Medical College 1989
Research Interests
child health services; commerce; delivery obstetric; emergency medical services; health personnel; health services needs and demand; human trafficking; hysterectomy; kenya; marketing; maternal health services; organ transplantation; postpartum hemorrhage; prostitution; rehydration solutions; slavery; social medicine; transplants; urbanization; uterine balloon tamponade
Research Narrative
Thomas F. Burke, M.D., an attending physician at the Massachusetts General Hospital Department of Emergency Medicine, graduated from Albany Medical College. Next, he completed his residency in emergency medicine at Madigan Army Medical Center Fort Lewis, WA. Dr. Burke is also an Associate Professor of Emergency Medicine at Harvard Medical School.
In 1998 Dr. Burke launched and presided over the nongovernmental organization, IICEM, whose principal purpose was to assist physician leaders around the world in the development of their own emergency systems.
In the following years their activities included: pediatric seminars for Eastern Europe, an Eastern European program in domestic violence, an intensive 2-month training for Romanian physicians (in the US). The organization also developed the trauma system for the country of Romania.
During this time Dr. Burke was also the medical director of the International Torture and Trauma Program (ITTP). This is a program focused on increasing the capacity of global social leaders in the fight against torture and trauma. In November of 2006 he began a new position as the founding director of the Center for Global Health (CGH) at Massachusetts General Hospital (MGH).
He is now the chief of the Division of Global Health and Human Rights in the Department of Emergency Medicine. The Division's mission remains focused on caring the world's most vulnerable through education, research, and service.
At the Division the aim is to provide a catalytic environment for those who seek engagement, education, or research opportunities in global health while additionally executing world leading initiatives in such areas as fighting malnutrition and improving maternal and fetal care. Dr. Burke also runs an annual Harvard Summer Program in Kisumu, Kenya, "Innovations and Technologies for Health Care Transformation in Africa".
The extensive research agenda of the Division of Global Health and Human Rights has included scholarly activity focused on health and human rights in the realm of human trafficking and slavery, humanitarian assistance, peace measurement, malnutrition, and maternal and newborn health.