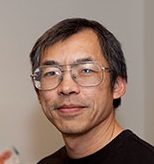 Charles Lin, Ph.D.
Associate Investigator
Wellman Center for Photomedicine, Mass General Research Institute
Associate Investigator
Center for Systems Biology, Mass General Research Institute
Associate Professor of Dermatology
Harvard Medical School
Affiliate Faculty
Harvard Stem Cell Institute
Research Staff
Dermatology, Massachusetts General Hospital
Education
PhD University of Chicago 1986
Research Interests
cell tracking; flow cytometry; fluorescein angiography; hematopoietic stem cells; laser coagulation; laser therapy; microscopy, confocal; microscopy, fluorescence; microscopy, fluorescence, multiphoton; neoplastic cells, circulating; pigment epithelium of eye; skull; stem cell niche
Research Narrative
Dr. Lin has been a faculty member at the Wellman Center for Photomedicine since 1994. He was trained as a spectroscopist and received his PhD in physical chemistry in 1986 from the University of Chicago. Following postdoctoral research at Princeton University, he came to the Massachusetts Eye and Ear Infirmary and later the Tufts/New England Eye Center, where he worked on ophthalmic laser microsurgery, laser eye injury, and also participated in the early development of optical coherence tomography for eye imaging.
Dr. Lin continues to have a small research program in ophthalmic imaging and laser microsurgery, but his primary research interest is now focused on developing optical techniques for cell tracking and molecular imaging in live animal models of human diseases. Specifically he and his team members are developing in vivo microscopy and in vivo flow cytometry methods for tracking immune cells, stem cells, and cancer cells, with the goal of improving transplantation, stem cell therapy, and cancer therapy, by understanding cell biologyin vivo.
Dr. Lin is also a member of the Center for Systems Biology at Massachusetts General Hospital and an affiliated faculty member at the Harvard Stem Cell Institute and the Harvard/MIT Division of Health Sciences and Technology. He is a fellow of the Optical Society of America.