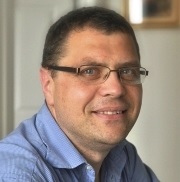 Daniel Irimia, M.D., Ph.D.
Physician Investigator (NonCl)
Shriners Hospitals for Children - Boston, Mass General Research Institute
Associate Professor of Surgery
Harvard Medical School
Research Interests
cell migration and motility; cell movement; cell separation; chemotaxis; chemotaxis leukocyte; diagnostics; microfluidic analytical techniques; microfluidics; neutrophils; point of care diagnostics; sepsis
Research Narrative
Daniel is a scientist, trained as a physician, and pursuing the study of cell motility in health and disease. He is doing pioneering work in the design and application of microfluidic tools to the study of various populations of white blood cells. For example, he is using microfluidic channels to mechanically confine moving cells and to measure neutrophil motility with higher precision than any other of the current tools and directly from just a droplet of blood. He is employing such tools to advance the prevention, diagnosis, and management capabilities during sepsis in patients with major burns. Most recently, he designed microfluidic devices to help study the key steps in the process by which cancer cells break off from a primary tumor to invade other tissues and form metastases. These new tools could be instrumental for testing and comparing compounds to block or delay the epithelial-mesenchymal transition, potentially slowing the progression of cancer.
While his experience as a physician guides him to focus on problems with clinical and diagnostic relevance, Daniel is also an energetic teacher of microfluidics technologies to the broader science community. He has recently organized the first Dicty World Race. This science competition, followed online by more than 18000 viewers from around the world and featured in journals like the Wall Street Journal or Nature, could ultimately lead to better tools for measuring cell motility, motivate researchers from other fields to apply their knowledge to optimizing cell motility for speed and accuracy, create opportunities for outside-of-the-box thinking about cell motility, and attract young fellows to science and engineering.