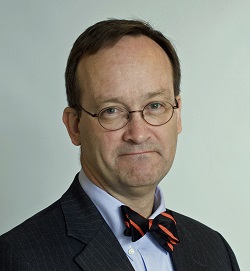 Thoralf Sundt, M.D.
Chief
Cardiac Surgery, Massachusetts General Hospital
Director
Corrigan Minehan Heart Center, Massachusetts General Hospital
Edward D. Churchill Professor of Surgery
Harvard Medical School
Physician Investigator (Cl)
Surgery, Mass General Research Institute
Education
MD Johns Hopkins University 1984
Research Interests
aneurysm; aneurysm dissecting; aortic aneurysm; aortic aneurysm thoracic; aortic valve; bicuspid valve; cardiac surgical procedures; heart valve diseases; heart valve prosthesis implantation; lung transplantation; medical error reduction; organ transplantation
Research Narrative
Thor Sundt, MD, is the Churchill Professor of Surgery, chief of the Division of Cardiac Surgery and director of the Corrigan Minehan Heart Center.
Dr. Sundt's clinical focus has been on surgery for the correction of acquired cardiovascular conditions in adults. He is an internationally recognized thought-leader on thoracic aortic aneurysms and other aortic diseases, having written and lectured extensively on the subject. He is also widely recognized as an expert in reparative procedures for vascular heart conditions, including mitral regurgitation and aortic valve regurgitation. He has also contributed to the literature on the optimal use of arterial conduits to improve the long term durability of coronary bypass procedures.
His research interests have ranged from organ transplantation to the genetics and genomics of bicuspid aortic valve disease. He has received funding by the National Institutes of Health, the American Association for Thoracic Surgery and The Mayo Foundation for this work. Most recently, he collaborated with investigators in the disciplines of human factors and systems engineering to improve the safety and efficiency of healthcare delivery. On a national level, he was the first chair of the Workforce on Patient Safety for the Society of Thoracic Surgeons. He is actively collaborating with members of the Mass General Physician Organization in the development of tools to enhance patient centered and shared decision making.
He has served in numerous executive roles, including surgical director for cardiac transplantation at Washington University in St. Louis, surgical director of the Thoracic Aortic and Marfan Clinic at the Mayo Clinic and vice-chair of the Department of Surgery at the Mayo Clinic in Rochester. Dr. Sundt is a member of numerous medical and surgical societies and is the Vice President of the American Association for Thoracic Surgery, the most prestigious academic cardiothoracic surgical organization in the world.