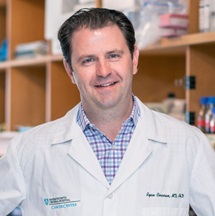 Ryan B Corcoran, M.D., Ph.D.
Physician-Investigator
Cancer Center, Massachusetts General Hospital
Associate Professor of Medicine
Harvard Medical School
Assistant Physician
Hematology-Oncology, Massachusetts General Hospital
Education
MD Stanford University School of Medicine 2006
PhD Stanford University School of Medicine 2006
Research Interests
benzimidazoles; cancer immunotherapy; cerebellar neoplasms; drug resistance neoplasm; epigenetics; gastrointestinal malignancies; gene amplification; heterozygote; insulin-like growth factor ii; map kinase kinase 1; medulloblastoma; mitogen-activated protein kinase kinases; protein kinase inhibitors; proto-oncogene proteins b-raf; proto-oncogene proteins p21(ras); sterols; sulfonamides; targeted therapy
Research Narrative
The Corcoran laboratory focuses on developing new and effective therapies for gastrointestinal cancers, including colorectal, pancreatic, stomach, and esophageal cancers, by targeting the specific survival signals that are active in a given patient's cancer. Our research utilizes targeted therapies, which are drugs that inhibit signaling pathways activated by the specific mutations that drive individual tumors.
Since cancer cells often become resistant to these targeted therapies by activating alternative signaling pathways, we focus on identifying these key resistance signals in cancer cells. We utilize this information to devise effective combinations of targeted therapies that anticipate and ultimately overcome these mechanisms of drug resistance. Overall, our goal is to develop promising therapeutic strategies that can be evaluated in clinical trials for patients whose cancers are driven by specific mutations.