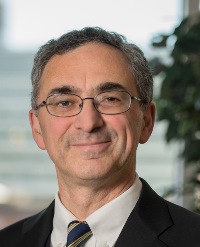 Mark Poznansky, M.D., Ph.D.
Director
Vaccine & Immunotherapy Center, Massachusetts General Hospital
Physician Investigator (Cl)
Vaccine Immunotherapy Monthly, Mass General Research Institute
Physician
Infectious Disease, Massachusetts General Hospital
Professor of Medicine
Harvard Medical School
Steve and Deborah Gorlin MGH Research Scholar 2015-2020
Massachusetts General Hospital
Education
PhD Cambridge University 1989
MD 1985
Research Interests
chemokine cxcl12; chemotaxis, leukocyte; hiv envelope protein gp120; hsp70 heat-shock proteins; influenza vaccines; receptors, cxcr4; t-lymphocytes; thymus gland
Research Narrative
Dr. Poznansky is an expert physician scientist and medical innovator who has combined these expertise together to found and direct the Vaccine and Immunotherapy Center (VIC) at Massachusetts General Hospital. VIC supports accelerated bench to bedside research and the development of novel vaccines and immunotherapies for cancer, infectious and immune mediated diseases. His expertise is in immunology and, in particular, immune cell migration. He discovered fugetaxis, the principle of immuno-repulsion or the active movement of immune cells away from an agent source, that forms the basis of his academic research at Harvard Medical School. His laboratory defined the molecular mechanism for this novel immune process and explores the relevance of this mechanism to new therapeutic approaches to cancer, infectious diseases and type 1 diabetes. Under his leadership, VIC now supports four R and D programs: in infectious diseases (including COVID-19, Q fever and Influenza), cancer (including ovarian cancer, cervical cancer and mesothelioma) and a regenerative medicine based program for immune mediated diseases (including type 1 diabetes and ALS). In addition, VIC also supports a cutting edge high dimensional immunology and associated computational biology program that now underpins much of the work at VIC. Dr. Poznansky is a Professor of Medicine at Harvard Medical School and Attending Physician in General and Transplant Infectious Diseases Medicine at Massachusetts General Hospital.