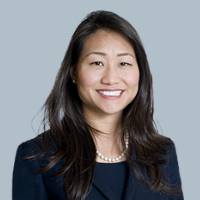 Hanna Kim Gaggin, M.D., M.P.H.
Physician Investigator (Cl)
Cardiovascular Research Center, Mass General Research Institute
Assistant Professor of Medicine
Harvard Medical School
Assistant Physician
Cardiology, Massachusetts General Hospital
Education
MD Eastern Virginia School of Medicine 2003
MPH Harvard T. H Chan School of Public Health 2007
Research Interests
biomarkers; cardiac pacing artificial; cardiovascular agents; echocardiography doppler; heart failure; heart failure with preserved ejection fraction; myocardial infarction; natriuretic peptide brain; natriuretic peptides; patient selection; peptide fragments; precision medicine; pulsed; receptors cell surface; stroke volume; troponin t; ventricular dysfunction left
Research Narrative
Dr. Gaggin is a clinical investigator, educator and cardiologist who focuses on evidence-based application of Precision Medicine in Cardiology-how best to target treatment to the individual to optimize clinical benefit and minimize adverse effects.
This involves designing and performing clinical trials to evaluate heart failure and myocardial infarction (including supply and demand mismatch-related type 2 MI) phenotypes and response to specific therapy using novel machine learning techniques, biomarkers and longitudinal data.
She is also interested in improving the efficiency of clinical trials and participates in registries, diagnostic studies and drug trials. She serves as an Editorial Consultant for the Journal of the American College of Cardiology: HF. She is overseeing the launch of the HF with Preserved Ejection Fraction Program where clinical research and clinical practice complement each other closely.
Another area of interest is in peer and patient education. Dr. Gaggin is the founder and co-Editor of the MGH Cardiology Board Review Book (1st and 2nd editions) and led the launch of the MGH Cardiology Board Review Course 2017 as the founder and co-course director. Currently she is working with Harvard Medical School as a Course Director to test and develop an On Demand Cardiology education program.
She represents Cardiology in the Internal Medicine Department at MGH as a Subspecialty Core Educator.
Dr. Gaggin graduated from the Eastern Virginia Medical School in 2003. She completed her Internal Medicine residency at the University of Virginia Health System, followed by an MPH at Harvard School of Public Health with a concentration in Quantitative Methods in 2007.
She completed her clinical cardiology fellowship at the University of Pittsburgh Medical Center and clinical research fellowship at MGH and joined the faculty at MGH in 2012.