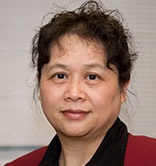 Meixiong Wu, M.D., Ph.D.
Associate Investigator
Wellman Center for Photomedicine, Mass General Research Institute
Associate Professor of Dermatology
Harvard Medical School
Education
PhD Utah State University 1992
MD Sun Yat-Sen University of Medical Sciences 1987
Research Interests
apoptosis regulatory proteins; genes, immediate-early; gtp-binding protein alpha subunit, gi2; gtp-binding protein alpha subunits; gtp-binding protein alpha subunits, gi-go; immediate-early proteins; leishmaniasis, cutaneous
Research Narrative
Dr. Mei X. Wu received her Ph.D. from Utah State University in 1992, after which she was trained as a post-doctoral fellow at Massachusetts Institute of Technology (MIT) and then at Dana-Farber Cancer Institute, Harvard Medical School (HMS). She was promoted to Instructor in 1995 at HMS and Assistant Professor in 1999 at Baylor College of Medicine.
In 2003, Dr. Wu moved to Boston and currently works at Wellman Center for Photomedicine within Massachusetts General Hospital/HMS. Her laboratory studies the molecular mechanisms in association with autoimmune diseases, protective immune responses, and immune-suppression by taking advantage of various newly-developed internal technologies. These studies include monitoring lymphocyte egress of lymph nodes by intravital confocal microscopy and in vivo flow cytometry; novel technologies for needle-free and pain-less delivery of drugs and vaccines; lesion-free cutaneous vaccination by micro-fractional delivery, in combination with nanoparticles; and therapeutic potentials of low level light (LLL).
Dr. Wu's research has been continuously supported by various competitive funds from the National Institutes of Health (NIH), the Department of Defense, the American Cancer Society, the Crohn's & Colitis Foundation of America, the American Heart Association, and others.