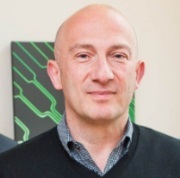 Mehmet Toner, Ph.D.
Investigator
Shriners Hospitals for Children - Boston, Mass General Research Institute
Helen Andrus Benedict Professor of Surgery
Harvard Medical School
Professor of Health Sciences and Technology
Harvard Medical School
Biomedical Engineer
General and GI Surgery, Massachusetts General Hospital
Education
PhD Massachusetts Institute of Technology 1989
Research Interests
anhydrobiosis; biostabilization; blood processing; cell separation; circulating tumor cells; cryobiology; cryopreservation; cryoprotective agents; hepatocytes; metabolism; microfluidic analytical techniques; microfluidics; neoplastic cells circulating; thermodynamics; trehalose
Research Narrative
Mehmet Toner, PhD, was born in Istanbul, Turkey in July 1958. He received a Bachelor of Science degree from Istanbul Technical University in 1983 and a Master of Science degree from the Massachusetts Institute of Technology (MIT) in 1985, both in Mechanical Engineering. He subsequently completed his PhD in Medical Engineering at the Harvard-MIT Division of Health Sciences and Technology (HST) in 1989.
Dr. Toner joined the faculty at the Massachusetts General Hospital and Harvard Medical School as an Assistant Professor of Biomedical Engineering in 1989, and was promoted to Associate Professor in 1996, and to Professor in 2002. Dr. Toner has a joint appointment as a Professor of Health Sciences and Technology at the Harvard-MIT Division of HST.
Dr. Toner serves as a member of the Senior Scientific Staff at the Shriners Hospital for Children. He is a co-founder of the Center for Engineering in Medicine, and founder of the NIH BioMicroElectroMechanical Systems (BioMEMS) Resource Center at the Mass General. He is also the Director of the Biomedical Engineering Research and Education Program for physicians at Mass General.
He is a member of many national and international professional committees, and serves on the editorial board of many scientific journals including Cryobiology, Cryo-Letters, Cell Preservation Technology, Annual Reviews in Biomedical Engineering, and Nanomedicine.
He has served on many national and international panels and review boards, including National Institutes of Health (NIH) Study Sections, National Science Foundation (NSF) CAREER Award panels, NSF Nanoscience panel, NIH Nanotechnology and Tissue Engineering panel, and several DARPA strategic planning panels.
In 1994, he was recognized by the YC Fung Faculty Award in Bioengineering from the American Society of Mechanical Engineers (ASME). In 1995, he received the Whitaker Foundation Special Opportunity Award. In 1997, he won the John F and Virginia B Taplin Faculty Fellow Award given by Harvard and MIT.
In 1998, Dr. Toner was selected to become a Fellow of the American Institute of Medical and Biological Engineering. He serves on the scientific advisory boards of multiple biotechnology and medical device companies, and has been involved as a scientific founder of multiple startup companies.
RESEARCH SUMMARY
Dr. Toner is motivated by multi-disciplinary problems at the interface of engineering and life sciences. He is internationally recognized for his multidisciplinary approach to biomedical problems in the areas of low-temperature biology and biostabilization, tissue engineering and artificial organs, and microsystems bioengineering in clinical medicine and biology.
He has received funding from NIH, NSF, DARPA, Whitaker Foundation, National Textile Center and many industrial outfits. Dr. Toner's former students and trainees hold positions at many prestigious universities and companies, including MIT, Harvard, UCSD, UC Irvine, UC Davis, Rutgers U, University of Minnesota, Georgia Institute of Technology, University of Amsterdam, Keio University, University of Alberta, Amgen, Bristol-Myers, and BioLife.
He has published over 200 scientific publications and has delivered over 350 invited and scientific meeting presentations.
In the field of tissue engineering, he is working to create a bioartificial liver device, engineer skin tissue and is examining cell-cell interactions in engineered complex tissues.
In the field of cryobiology and biostabilization, his research focuses on stabilizing mammalian cells and engineered tissues, anhydrobiosis and metabolism, and also the thermodynamics and physical chemistry of phase changes in tissue.
In the field of microfluidics and micro/nanosystems engineering, he is working on living cell devices, microfluidics in biology and medicine, microfluidic blood processing, and the integration of living cells and micro-engineered tissue units into micro-devices.
In the field of global health, he creates point of care monitoring for HIV/AIDS, more efficient methods of diagnosing and monitoring of tuberculosis, and manipulating viral particles.
In the field of cancer metastasis, Dr. Toner is researching circulating tumor cell biology, and developing a microchip to help sort rare cells.