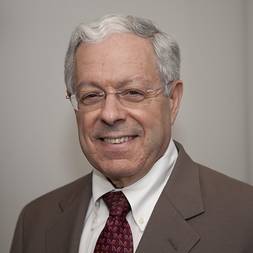 Jeffrey Gelfand, M.D.
Physician Investigator (Cl)
Vaccine Immunotherapy Monthly, Mass General Research Institute
Professor of Medicine, Part-time
Harvard Medical School
Physician
Infectious Disease, Massachusetts General Hospital
Education
MD Tufts University School of Medicine 1971
Research Interests
babesiosis; cd-4 response; cd-8 response; complement activation; complement c3a; folate receptor-alpha; guillain-barre syndrome; interleukin-1; pneumonia viral; scfvs; tumor antigens; tumor necrosis factor-alpha
Research Narrative
We have developed a novel approach for targeting (tumor) antigens whose sequence may not be known or structure even identified. We have linked scFV's to MycobacteriumTb HeatShockProtein 70, thus developing a novel fusion protein vaccine for presenting antigen to APCs in order to generate both a CD-4 and CD -8 response. The scFV's can be selected for their binding to an uncharacterized antigen or to a characterized antigen by binding studies, and the appropriate V-genes can then be selected. The scFV genes are fused to the gene for MTb HSP 70, and the new fusion gene is expressed as the fusion protein in E. coli. We have succeeded in generating a fusion vaccine targeting Folate Receptor-alpha, hyper-expressed in ovarian and many breast tumors.