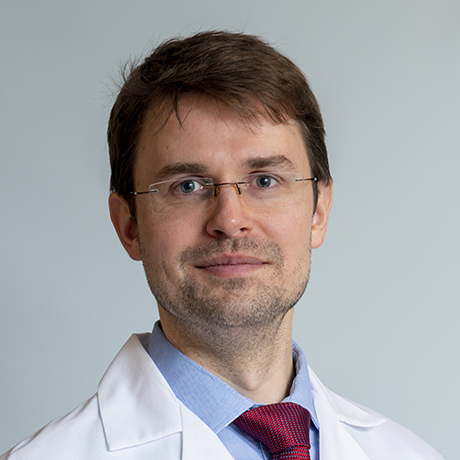 Florian Fintelmann, M.D.
Physician Investigator (Cl)
Radiology, Mass General Research Institute
Associate Professor of Radiology
Harvard Medical School
Radiologist
Thoracic Imaging and Intervention, Massachusetts General Hospital
Research Interests
advanced machine learning; cancer cachexia; cryoablation; immunotherapy; interventional oncology; microwave ablation; morphomic data; quantitative image analysis
Research Narrative
Dr. Fintelmann is a physician-scientist at Massachusetts General Hospital (MGH) and Associate Professor of Radiology at Harvard Medical School. Prior to his appointment in the Division of Thoracic Imaging and Intervention, he completed Radiology Residency and Fellowship training at MGH. He currently serves as Head, Thoracic Imaging Percutaneous Thermal Ablation and Officer, Radiology Visting Research Fellowships, and as the 2019-2021 American Roentgen Ray Society Scholar.

As the head of Thoracic Imaging Percutaneous Thermal Ablation at Massachusetts General Hospital, Dr. Fintelmann is integrated into the Thoracic Cancer Team. His research focuses on improving cancer care with advanced imaging techniques and image-guided minimally invasive interventions.
Dr. Fintelmann studies the spectrum of lung cancer imaging manifestations ranging from early diagnosis (lung cancer screening with low-dose chest computed tomography) to advanced disease. Dr. Fintelmann co-leads a multi-disciplinary team studying cancer cachexia and is using quantitative image analysis to improve the risk stratification of patients with cancer for appropriate therapies. His lab is leveraging machine learning tools to extract morphomic data such as body composition from computed tomography exams of the chest and abdomen obtained as part of routine clinical care.
Dr. Fintelmann believes that patients with cancer benefit from interventional oncology and is working on furthering the role of minimally invasive image-guided diagnostic and therapeutic procedures. Specifically, he is studying percutaneous ablation (cryoablation, microwave ablation) and needle biopsies. Dr. Fintelmann advocates for percutaneous ablation to treat lung cancer in patients with interstitial lung disease and recurrent lung cancer following radiation therapy. Ongoing clinical trials in collaboration with the MGH Cancer Center investigate possible synergy between immunotherapy and cryoablation in patients with advanced lung cancer and advanced melanoma (cryoimmunotherapy, cryoimmunology).
Collaborators

https://scholar.harvard.edu/florianfintelmann
---
Grant Funding

Society of Interventional Oncology

William M. Wood Foundation