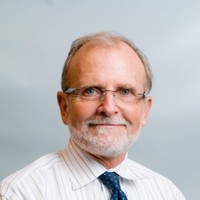 William Brugge, M.D.
Physician Investigator (NonCl)
Gastroenterology, Mass General Research Institute
Research Staff
Gastroenterology, Massachusetts General Hospital
Education
MD Baylor College of Medicine 1974
Research Interests
barrett's esophagus; biopsy fine-needle; cholangiopancreatography endoscopic retrograde; cyst fluid; cystadenomas; cytologic analysis; endoscopic confocal laser microscopy; endosonography; esophagus; intra-ductal tumors; mucosa; pancreas; pancreatic cyst; pancreatic neoplasms; tumor markers
Research Narrative
As the Director of the Gastrointestinal Endoscopy Program at Massachusetts General Hospital, my research has focused on the early diagnosis of pancreatic cancer.
Our program has developed a variety of endoscopic techniques to aspirate malignant and pre-malignant lesions of the pancreas. These lesions include cystadenomas, intra-ductal tumors, and masses.
We have worked closely with collaborators in the MGH Departments of Cytology and Chemistry to develop assays for tumor markers and cytologic analysis that are capable of making a tissue diagnosis of a mucinous cystadenoma and detecting early evidence of malignant degeneration.
Recently, we have established an endoscopic technique for the diagnosis of early malignancy of the esophagus, often in the setting of Barrett's esophagus. Endoscopic confocal laser microscopy is a new technique for providing histologic quality imaging of the mucosa. We are participating in a national study for establishing the sensitivity and specificity of confocal laser microscopy in Barrett's esophagus.