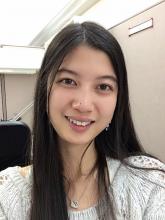 Jingyuan Chen, Ph.D.
Instructor in Investigation
Athinoula A. Martinos Center for Biomedical Imaging, Mass General Research Institute
Instructor in Radiology
Harvard Medical School
Education
PhD Stanford University 2017
Research Interests
brain imaging; fmri; fmri bold; pet imaging
Research Narrative
I am a biomedical engineer working at the interface of neuroimaging technology, signal processing and neuroscience. One line of my current research is to harness the cortical-depth-dependent information uncovered by high-resolution fMRI to improve the neuronal specificity and sensitivity of BOLD fMRI measures; and to exploit the depth-dependent patterns of resting-state brain functional architecture. A second line of my research, supported by the NIH K99/R00 Pathway to Independence Award, focuses on integrating state-of-the-art fast PET technology and fMRI to probe the neuronal, vascular, energetic and neuromodulatory mechanisms underlying brain functional dynamics.