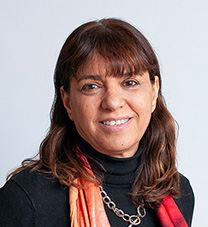 Irit Adini, Ph.D.
Assistant Investigator
Shriners Hospitals for Children - Boston, Mass General Research Institute
Assistant Professor of Surgery
Harvard Medical School
Education
PhD Hebrew University Hadassah Medical School 2002
Research Interests
age-related macular degeneration; angiogenesis; angiogenetic balance; connective tissue diseases; fibromodulin; fmod; inflammatory skin disorders; melanin; melanocytes; melanocytic microenvironment; ocular angiogenesis; tissue neovascularization-dependent disorders
Research Narrative
Irit Adini, PhD, received her MSc in Biochemistry and PhD in Microbiology and Molecular Genetics from the Hebrew University, Jerusalem, Israel, with specialization in immunogenetics of parasite and drug discovery. She joined Beth Israel Deaconess Medical Center as a postdoctoral fellow, and later became and Instructor at Harvard Medical School and Children's Hospital Boston.
Dr. Adini joined the Center of Engineering in Department of Surgery at the Medicine at Massachusetts General Hospital in 2017 and was promoted to Assistant Professor in Surgery at Harvard Medical School in 2018.
As an instructor at Boston Children's Hospital, she studied the effects of pigmentation on ocular angiogenesis. This work led to the investigation of a novel pigment-dependent angiogenesis mechanism, in which melanocytes secrete the proangiogenic factor fibromodulin (FMOD), which negatively regulated by melanin levels.
This work demonstrates a fundamental role for melanocytes in regulating the local angiogenic balance and an inflammatory factor in tissues such as the eye and skin.
Dr. Adini's research focuses on the role of the melanocytic microenvironment in tissue neovascularization-dependent disorders and inflammatory skin disorders, such as Age-Related Macular Degeneration (ARMD), Cancer and Connective Tissue Diseases. The Adini lab integrates the multidisciplinary fields of cell and molecular biology, immunometabolism, vascular biology, and tissue engineering.
Specifically, her group aims to uncover molecular basis of differences in the incidence of angiogenesis-dependent diseases among individuals of different skin colors. More specifically, her research concentrates on understanding melanocyte-mediated micro-environment via fibromodulin (FMOD) interaction during neovascularization and immunometabolism.