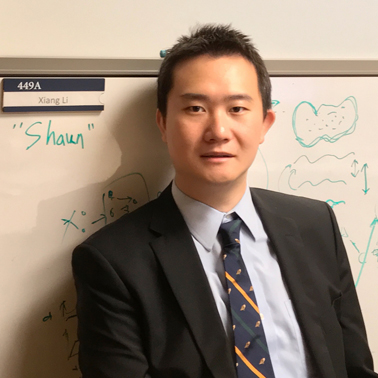 Xiang "Shaun" Li, Ph.D.
Assistant Professor of Radiology
Harvard Medical School
Assistant Professor
Radiology, Massachusetts General Hospital
Affiliate Faculty
Kempner Institute for Natural and Artificial Intelligence, Harvard University
Education
PhD University of Georgia 2016
Bachelor of Engineering Shanghai Jiaotong University 2006
Research Interests
artificial general intelligence; artificial intelligence; big data; cardiac imaging; electronic health records; health informatics; language processing; machine learning; medical foundation model; medical image analysis; multi-modal fusion; neuroimaging
Research Narrative
I am currently an Assistant Professor working at the Massachusetts General Hospital and Harvard Medical School, Department of Radiology. I have led multiple medical imaging, text analysis, and multi-modal fusion projects, especially on developing artificial intelligence (AI) in healthcare. I am specifically experienced in leveraging the latest advancements of Artificial General Intelligence (AGI) to develop general-purposed solutions to tackle the practical challenges of applying AI in a complex clinical context, including the heterogeneity in multi-institutional data, scalability, and computational constraints of AI, and the system integration into the clinical workflow. I have authored over 100 articles with an H-index of 31 on topics including medical imaging/text analysis methodology development, the application of AI for diagnosing and detecting diseases, and the computational architecture design for big data strategies in healthcare.

Research Investigation
My research focus is on the development of generalized, robust, and explainable solutions for multi-modal data analytics in healthcare. With the advancement of AGI, my recent works are mainly on the foundation models in medicine. By combining clinical domain priors with novel algorithm designs, I have developed and published a series of works for modeling large-scale, domain-specific text/image/multi-modal data, including RadiologyGPT, RadOncGPT, BiomedGPT. We have also experimented with leveraging large pre-trained models for medical tasks, including cohort establishment, text de-identification, and general-purposed image segmentation. My previous works in methodology development for medical image analysis have been awarded by the IEEE International Symposium on Biomedical Imaging (ISBI) as the Best Student Paper award for 3 times (2011, 2013, and 2020 by my mentee), the Best Paper Award of IEEE Transactions on Radiation and Plasma Medical Sciences in 2022. I have received grant support from both NIH and MGH Thrall Innovation Grants Award for my research.
Technological Innovation
At MGH, I have worked with physicians, radiologists, and system engineers to deliver novel solutions for medical imaging. Through close collaboration with thoracic radiologists, including Dr. James Thrall and Dr. Mannudeep Kalra, I developed a deep learning-enabled system for pneumothorax prescreening. The work was among the four 2018 NVIDIA Global Impact Award finalists. I have also developed risk assessment tools at the Emergency Department for COVID-19 patients based on their chest X-ray images and tabular medical records data.

Service to the Community
I have been serving as a reviewer for multiple top research journals and conferences, as well as editor and program chair for multiple journals and conferences, with a focused interest in bridging the communities of medical imaging data science and machine learning. To promote the importance and advancement of multi-modal, multi-scale medical image analysis and facilitate more interactions between clinical and data science experts, I founded and chaired the International Workshop on Multiscale Multimodal Medical Imaging in 2019, 2022, and 2023.
Teaching and Educational Activities
I have supervised and mentored 4 research fellows and 8 visiting students at MGH. Through mentorship and co-working on research projects, most of the research fellows and students have accomplished more than one publication in scientific journals or conferences. In addition, I have given multiple lectures on computational modeling and solution development in Radiology. Since 2021, I have been organizing the "AI x Med" bi-weekly seminar, a lecture series on the latest developments of AI applications in medicine, presented by researchers within the hospital and invited speakers from external institutions.