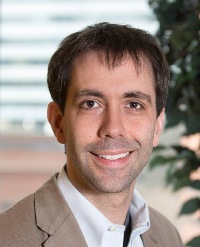 Jacob Hooker, Ph.D.
Investigator
Athinoula A. Martinos Center for Biomedical Imaging, Mass General Research Institute
Phyllis and Jerome Lyle Rappaport MGH Research Scholar
Massachusetts General Hospital
Lurie Family Professor of Radiology in the Field of Autism Research
Harvard Medical School
Research Staff
Pediatrics, Massachusetts General Hospital
Education
PhD UC Berkeley 2007
Research Interests
azepines; brain; capsid; carbon radioisotopes; diterpenes, clerodane; histone deacetylase inhibitors; histone deacetylases; levivirus; neurochemistry; positron-emission tomography; radiopharmaceuticals
Research Narrative
Our diverse group of scientists from backgrounds including chemistry, biochemistry and medical physics (among others), develops and applies tools to image molecules within the living human brain using Positron Emission Tomography (PET).
While Magnetic Resonance (MR) images reveal the anatomical/structural data about the body, PET employs radiolabeled chemical ligands to visualize the density and localization of specific molecules within the body. PET neuroimaging provides insight into the neurochemistry of the healthy brain, enables investigation of when and where molecules are dysregulated in brain diseases, and can be used to develop therapeutic treatments.
In collaboration with other groups at the Martinos Center for Biomedical Imaging, clinicians from Massachusetts General Hospital (e.g. neurology and psychiatry) and academic centers worldwide, we examine molecular changes in the living brain throughout the course of disease so that we can better understand underlying disease mechanisms and develop novel therapeutic approaches. We are currently running several clinical studies to investigate the role of neuroinflammation and epigenetic enzymes in both neurodegenerative and psychiatric diseases.
Additional projects are focused on developing new methods and tools to enable imaging of novel molecular targets that will advance our ability to translate basic research towards the treatment of human illness.