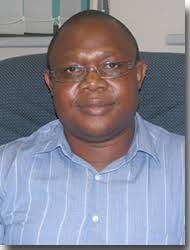 Zaza Ndhlovu, Ph.D.
Assistant Investigator
Ragon Institute of MGH, MIT and Harvard, Mass General Research Institute
Assistant Professor of Medicine, Part-time
Harvard Medical School
Research Staff
Ragon Institute of MGH, MIT and Harvard, Massachusetts General Hospital
Education
PhD Johns Hopkins University 2009
Research Interests
antigens viral; cd8-positive t-lymphocytes; gene products gag; hiv vaccine; hiv-1; immune dysfunction; immunologic surveillance; immunology; measles; measles vaccine; measles virus; molecular microbiology; viremia
Research Narrative
Dr. Zaza Ndhlovu is Assistant Professor of Medicine at Harvard Medical School, faculty at the Africa Health Research Institute (AHRI), and adjunct faculty at the University of KwaZulu-Natal in Durban, South Africa. He is also a Member of the Ragon Institute of MGH, MIT and Harvard and an HHMI International Research Scholar.
Dr. Ndhlovu's work is geared toward understanding initial events after HIV acquisition that contribute to immune dysfunction and subsequent disease progression. After completing successful postdoctoral training and securing a faculty position at Harvard University, Dr. Ndhlovu was compelled to return to Africa by his desire to personally contribute to a lasting solution to the HIV epidemic. He reasoned that incidence rates of close to 10% per year in KwaZulu-Natal would enable him to address unique aspects of the host immune response to HIV, while at the same time contributing to scientific capacity-building needed to meet current and future African medical challenges. The move brought him to the epicenter of the African HIV epidemic and allowed him access to well-pedigreed acute infection samples. He uses excisional lymph node samples from patients with acute and chronic HIV infections to interrogate how brief exposure to HIV impacts induction and durability of protective immune responses. If successful, these studies will identify a phenotypic target for HIV vaccines, and his cohorts of very early treated individuals will be useful for future interventional studies aimed at a functional or sterilizing cure of HIV infection.
Dr. Ndhlovu cares deeply about training and inspiring the next generation of African scientists. He hopes to empower young Africans with the expertise necessary to shape the agenda around the continent's most pressing health challenges, including HIV, and to contribute to their solutions.
Dr. Ndhlovu received a PhD in molecular microbiology and immunology from Johns Hopkins University and completed postdoctoral training at Harvard University.