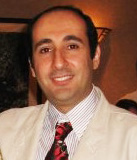 Wassim,Ph.D. El Jouni, Ph.D.
Instructor in Investigation
Nephrology, Mass General Research Institute
Instructor in Medicine
Harvard Medical School
Research Staff
Nephrology, Massachusetts General Hospital
Education
PhD University of Arkansas for medical sciences. 2008
Research Narrative
The M. Amin Arnaout laboratory is interested in elucidating the molecular basis of human disease and in using this information to guide development of new and safer therapies. We utilize state-of-the-art technologies, including genetics, genomics, biochemistry, cell biology, structural and computational biology and animal models of disease.

A major research goal of the Arnaout Laboratory is to elucidate the structure and function of integrins, cell adhesion receptors that play vital roles in normal physiology and disease, and use the derived information in structure-based design of new and safer anti-integrin drugs targeting heart disease, fibrosis, and cancer.
Other research interests include elucidating mechanisms underlying cyst formation in Autosomal Dominant Polycystic Kidney Disease, transcriptional regulation of hematopoiesis, mechanisms of kidney regeneration, and design of microfluidic dialysis devices.