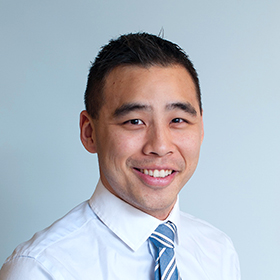 Bryan Choi, M.D., Ph.D.
Physician Investigator (Cl)
Neurosurgery, Mass General Research Institute
Assistant Professor of Neurosurgery
Harvard Medical School
Neurosurgeon
Neurosurgery, Massachusetts General Hospital
Education
M.D.; Ph.D. Duke University School of Medicine 2014
Research Interests
brain neoplasms; cancer immunotherapy; cancer vaccines; car t-cells; glioblastoma; glioma; neuro-oncology; neurosurgery; tumor immunology
Research Narrative
Bryan Choi, MD, PhD is an attending neurosurgeon in the Department of Neurosurgery and the Stephen E. and Catherine Pappas Center for Neuro-Oncology. He specializes in surgical care for patients with benign and malignant brain tumors. Born in Cleveland, Ohio, Dr. Choi graduated summa cum laude from Harvard College and attended Duke University School of Medicine, where he completed dual MD and PhD training in the field of tumor immunology under the guidance of Drs. John Sampson and Darell Bigner.
During his neurosurgery residency at the Massachusetts General Hospital he pursued a postdoctoral fellowship in the laboratory of Dr. Marcela Maus, focused on developing CAR T-cell therapies for cancer. He has published broadly, holds several patents, and has lectured internationally on immune-based treatments for brain tumors.
Dr. Choi was recruited to join the faculty of the MGH Brain Tumor Center and Harvard Medical School where he is currently in active practice. He also leads a research laboratory with the goal of developing the next generation of cell therapies and clinical trials in neuro-oncology.