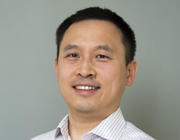 Hailiang Huang, Ph.D.
Assistant Investigator
Analytic and Translational Genetics Unit, Mass General Research Institute
Assistant Professor of Medicine
Harvard Medical School
Research Staff
Analytic and Translational Genetics Unit, Massachusetts General Hospital
Education
PhD Johns Hopkins University School of Medicine 2012
Research Interests
autoimmune diseases; disease genetics; hepatitis c; psychiatric disorders; schizophrenia
Research Narrative
Hailiang's research focuses on the genetics of complex disorders, especially autoimmune and psychiatric disorders. He is interested in developing new statistical and analytical methods, and use them to pinpoint and understand the genetic factors driving human complex disorders. His studies usually use large-scale omics data from various consortia and public available sources such as UK Biobank, NIH Roadmap, and GTEx.
Publications

Simches Building
185 Cambridge Street
Boston, MA 02114