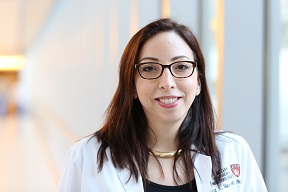 Erica S. Shenoy, M.D., Ph.D.
Physician Investigator (Cl)
ID Research 1 Monthly, Mass General Research Institute
Associate Professor of Medicine
Harvard Medical School
Associate Physician
Infectious Disease, Massachusetts General Hospital
Education
M.D.; Ph.D. Harvard Medical School 2007
Research Interests
antibiotic resistance; c difficile; coronavirus; covid-19; ebola; enterococcus; gram-positive bacterial infections; health economics; health services; infection control; influenza; machine learning; methicillin-resistant staphylococcus aureus; staphylococcal infections; vancomycin resistance
Research Narrative
Dr. Shenoy is an infectious diseases physician at Massachusetts General Hospital (MGH) where she is Associate Chief of the Infection Control Unit. She is an Assistant Professor of Medicine at Harvard Medical School and is trained as a health economist. Her research has evaluated the clinical, operational and economic impact of competing infection control strategies for methicillin-resistant Staphylococcus aureus (MRSA) and vancomycin-resistant Enterococcus (VRE) through clinical studies and mathematical modeling, has leveraged electronic health records for infection control surveillance, and applied machine-learning techniques to create real-time risk prediction models for Clostridioides difficile infection. Dr. Shenoy is co-chair, along with Dr. David Weber, of the SHEA Sterilization and High Level Disinfection guidelines committee. Dr. Shenoy collaborates with colleagues in Allergy and Immunology on research and implementation studies related to antibiotic allergy and led the development of the 2019 AAAAI-IDSA-SHEA guidance on evaluation and management of penicillin allergy. She is Medical Director of the MGH Biocontainment Unit, one of 10 facilities supported by the US Department of Health and Human Services as part of the regional treatment network for Ebola and other special pathogens. Dr. Shenoy is a Fellow in the Society for Healthcare Epidemiology of America (SHEA) and the Infectious Diseases Society of America (IDSA).